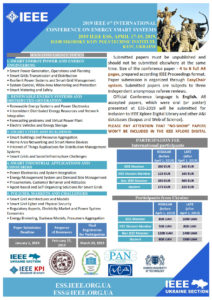 We invite you to participate and to submit your research papers for 2019 IEEE 6th International Conference on Energy Smart Systems (ESS).
The Conference will be held in Kyiv, Ukraine on April 17 – 19, 2019.
It is organized by National Technical University of Ukraine "Igor Sikorsky Kyiv Polytechnic Institute"
and Institute of Electrodynamics of the National Academy of Sciences of Ukraine, with support by:
Institute of Electrical and Electronic Engineers (IEEE), IEEE Ukraine Section,
National Academy of Sciences of Ukraine, IEEE KPI Student Branch, The Polish Academy of Sciences, Gdansk University of Technology.
MAIN CONFERENCE TOPICS:
1. SMART ENERGY POWER AND ENERGY ENGINEERING
• Smart Power Generation, Operations and Planning
• Smart Grids Transmission and Distribution
• Resilient Power Systems and Smart Grid Management
• System Control, Wide-Area Monitoring and Protection
• Smart Metering and Safety
2. RENEWABLE ENERGY SYSTEMS AND DISTRIBUTED GENERATION
• Renewable Energy Systems and Power Electronics
• Intermittent Distributed Energy Resources and Network Integration
• Forecasting problems and Virtual Power Plant
• Electric Vehicles and Energy Storage
3. SMART CITIES AND BUILDINGS
• Smart Buildings and Resource Aggregation
• Home Area Networking and Smart Home Devices
• Internet of Things Technologies for Smart Homes
• Smart Grids and Social Infrastructure Challenges
4. SMART INDUSTRIAL APPLICATIONS AND CONSUMERS
• Power Electronics and System Integration
• Energy Management System and Demand Side Management
• Prosumerism, Customer Behavior and Attitudes
• Agent-based and Self-Organizing Solutions for Smart Grids
5. POLICIES, MARKETS AND CHALLENGES
• Smart Grid Architectures and Models
• Smart Grid Cyber and Physical Security
• Regulatory Aspects, Electricity Market and Power System Economics
• Energy Brokering, Business Models, Prosumers Aggregation
Official language of the Conference is English. Size of the conference paper – 4 to 6 full A4 pages,
prepared according IEEE Proceedings format. Paper submission is organized through EasyChair system.
Submitted papers are subjects to three independent anonymous referee reviews.
All accepted papers, which were oral (or poster) presented at
2019 IEEE ESS will be submitted for inclusion to IEEE Xplore Digital Library and other A&I databases (Scopus and Web of Science).
Please pay attention that "No-show" papers won't be included in the IEEE Xplore Digital Library.
Important deadlines:
01/01/2019: Submission of full paper.
15/02/2019: Paper acceptance notification (Response of Reviewers).
20/03/2019: Deadline for fee and final paper submission.
We are looking forward to your papers, and we will be grateful
for the forwarding of this message to your colleagues, who may be interested in this conference.
ESS welcomes competent academicians to join us as reviewers.
Being a reviewer of proceedings of IEEE conferences is a matter of prestige and achievement.
The minimum set of qualifications for being a reviewer of ESS is listed below:
– you should be a holder of PhD degree;
– you should be an author with a minimum of 2 publications in IEEE journals/conferences.
If you agree and eligible to be ESS reviewer, then please complete and submit an application form:
https://docs.google.com/forms/d/e/1FAIpQLScdaKCf79eC8GHuIVfhrSCSaDD4OED7bLNMpLSTkWTtY0u9uw/viewform
ESS Local Organizing Office:
Faculty of Energy Saving and Energy Management,
National Technical University of Ukraine "Igor Sikorsky Kyiv Polytechnic Institute"
Borshchagivska str., bldg. 115, Block 22, off. 315, 03056, Kyiv, Ukraine
E-mail: ess@ieee.org.ua
Website: ess.ieee.org.ua
We hope to see you in Kyiv in beautiful and warm April!
Please do not hesitate to contact us if you have any further questions.
Best regards,
Prof. Yuriy Yakymenko,
National Technical University of Ukraine
"Igor Sikorsky Kyiv Polytechnic Institute" (Kyiv, Ukraine)
Prof. Oleksandr Kyrylenko,
Institute of Electrodynamics of NASU (Kyiv, Ukraine)
ESS – 2019 General Chairpersons